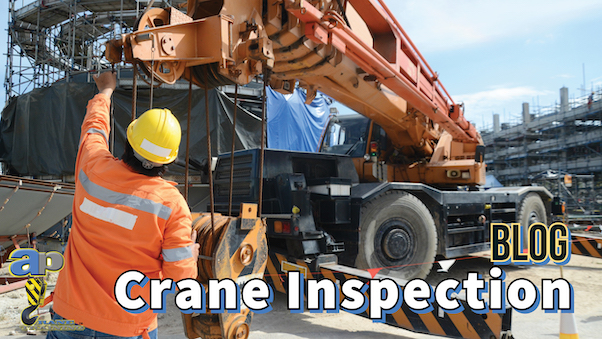 OSHA mandates yearly cane inspections. Crane operation on a daily or weekly basis can cause significant crane parts to wear out. This wear and tear might lead to a breakdown or, worse, a hazardous letdown that puts you, your group, or your organization in jeopardy. Routine crane inspections can help differentiate expected issues and fix them before they become costly or irreparable.
Who Can Perform Crane Inspections?
Cranes are complicated and sometimes dangerous machinery that require frequent inspections to ensure their safe functioning. Crane inspections must be undertaken by skilled and certified inspectors authorized by regulatory organizations in many areas.
In the United States, for example, the Occupational Safety and Health Administration (OSHA) requires cranes to be inspected by a qualified person, who is defined as someone who, through the possession of a recognized degree, certificate, or professional standing, or through extensive knowledge, training, and experience, has successfully demonstrated the ability to solve or resolve problems relating to the subject matter, the work, or the project.
A qualified inspector should, in general, have extensive experience and knowledge of cranes, as well as any relevant legislation or standards. They should be able to discover flaws, diagnose problems, and offer recommendations for repairs or maintenance.
Crane manufacturers or dealers may also offer inspection services or training to help assure the safe operation of their products in specific instances.
How often should I have my crane inspected?
According to the American National Standards Institute (ANSI), the aforementioned crane tests are classified into four types: initial, functional, frequent, and periodic.
Crane Inspections Checklist
Crane inspections checklist are essential for ensuring crane safety and proper crane operation. A crane inspection checklist is an important tool to help identify potential problems that could lead to crane accidents or malfunctions.

By following a thorough crane inspection checklist, operators can spot any issues before they become serious problems and take the necessary steps to remedy them. In this blog post, we will discuss why crane inspections are so important and provide a comprehensive crane inspection checklist that can be used as part of your overall crane safety program.
Prior to a worthwhile crane inspection, it's essential to comprehend the correct crane inspection you really want to perform. Crane inspections are of two kinds continuous and intermittent 20 CFR 1910.179(j).
Continuous Inspection - Daily to a month-to-month span
Occasional Inspection - 1 to year span
As mentioned from 1926 1412 inspections learn more.
We've covered both review techniques for the above and gantry cranes just in our post. Ensure you check with your safety professional in the event that you feel somewhat unsure. Note that OSHA Standard 1910 covers just a broad industry. For cranes utilized in development and shipyards, see 29 CFR parts 1926 and 1915, respectively.
- Get proper
crane operator training
and certification here.
Continuous Inspection Checklist
Consistently, search for all maladjustments that are impeding the legitimate activity of the crane.
Day-to-day review of any weakening or spillage in lines, tanks, valves, channel siphons, and other air or water-powered frameworks.
Check for harm like any twisted or broken snare. This ought to be done every day as well as month to month. For month-to-month investigations, keep a confirmation record with the controller's mark and date.
Raise chains including the end associations ought to be checked for deformations. Once more, the wear, turn, or mutilation review ought to be an everyday and month-to-month practice in a similar way as snares.
Interesting facts about crane inspections
Crane inspections are crucial for ensuring the safety and reliability of cranes. Inspections can help identify potential problems before they become major issues, and can help prevent accidents.
There are three main types of crane inspections: pre-use inspections, frequent inspections, and periodic inspections. Pre-use inspections are conducted before each use, frequent inspections are conducted at regular intervals, and periodic inspections are conducted annually or every few years.
Crane inspections are typically conducted by a certified crane inspector who has undergone specialized training and certification to perform these inspections.
During a crane inspection, the inspector will check a variety of components, including the wire ropes, hooks, chains, brakes, and safety devices. The inspector will also check the crane's load charts and ensure that the crane is being used within its rated capacity.
If a crane is found to have significant defects during an inspection, it may be taken out of service until the necessary repairs are made. This is done to prevent accidents and ensure the safety of workers on the job site.
Cranes used in certain industries, such as construction and manufacturing, are subject to specific regulations and standards set by organizations such as OSHA (Occupational Safety and Health Administration) and ASME (American Society of Mechanical Engineers). Compliance with these regulations and standards is essential to ensure that cranes are used safely and effectively.
In addition to visual inspections, some crane inspections may also involve non-destructive testing methods, such as ultrasonic testing or magnetic particle testing, to detect internal defects or cracks in critical components.
Finally, it's worth noting that crane inspections can be expensive and time-consuming, but they are necessary for ensuring safety and preventing accidents. Investing in regular inspections can ultimately save money by reducing the risk of costly accidents or downtime due to equipment failure.
Crane Inspection Training School
As a leading crane inspection training school, we are committed to providing high-quality training to individuals seeking to become certified crane inspectors. Our training program is designed to meet the needs of both experienced and novice crane inspectors, with a focus on safety, professionalism, and practical knowledge. Here are some of the reasons why we believe we are the best crane inspection training school in your area:
Accreditation: We are accredited by the National Commission for the Certification of Crane Operators (NCCCO) and the Occupational Safety and Health Administration (OSHA). This means that our training program meets the highest standards of quality and is recognized by industry professionals and regulatory agencies.
Experienced instructors: Our instructors are experienced crane inspectors with years of hands-on experience in the field. They are knowledgeable, passionate, and dedicated to providing practical, real-world training that prepares our students for success.
Comprehensive curriculum: Our training program covers all aspects of crane inspection, including pre-operation, post-operation, and periodic inspections. We also cover regulatory requirements, industry standards, and best practices for crane inspection. Our curriculum is regularly updated to reflect changes in the industry and regulatory environment.
Modern facilities and equipment: We have modern facilities and equipment for hands-on training, including cranes of different types and sizes, simulators, and training rooms with audio-visual equipment. Our equipment is well-maintained and regularly inspected to ensure safety and reliability.
Flexible scheduling: We offer flexible scheduling options to accommodate the busy schedules of our students. We offer both in-person and online training, and we can tailor our courses to meet the specific needs of individuals and organizations.
Support and guidance: We provide ongoing support and guidance to our students, including exam preparation, certification assistance, and job placement support. We are committed to the success of our students and take pride in their achievements.
In conclusion, we believe that our crane inspection training school is the best in your area because of our commitment to quality, our experienced instructors, comprehensive curriculum, modern facilities and equipment, flexible scheduling, and ongoing support and guidance. We are passionate about what we do and are dedicated to providing the best possible training to our students. If you are interested in becoming a certified crane inspector, we invite you to contact us to learn more about our training program.
For crane training or certification, please visit our crane operator school. Other training services are also available from us. Our aerial lift training is available in your area. We have a nationwide presence.